New York City Travel Guide
Views can be seen from the top of the One World Observatory, Rockefeller Center, or Empire State Building. Start your museum tour at The Metropolitan Museum of Art, which is located on the northeastern side of Central Park. Then, make your way north several blocks to the Guggenheim Museum and eventually to the Museum of the City of New York, one of the best venues to study the Big Apple's history.
Visit Little Italy for cannolis and Chinatown for dim food. Visit a jazz club in Harlem, look around the numerous independent art galleries in Chelsea, go shopping on Fifth Avenue, and see the Statue of Liberty.
You could explore Central Park's zoo, carousel, lakes, and ice rink on your own for the whole day. A variety of gardens and meadows are great places to people-watch and, on lovely days, host spontaneous musical performances. Going on a trip in the summer? Be sure to review the Shakespeare in the Park schedule.
Do you favor live music, movies, and sports? Visit Yankee Stadium to see the New York Yankees, Citi Field to watch the New York Mets, or Madison Square Garden to watch the New York Knicks. Find the websites for the movies and TV series you enjoy. Just a few of the movies that have been filmed here include Seinfeld, Sex and the City, "When Harry Met Sally," "Sleepless in Seattle," "Serendipity," and "Home Alone 2."
While there are many attractions in New York, some of the more intriguing ones are almost certain to be the ones you happen upon by accident while traveling to another location. You can find whatever you're looking for in New York. Simply don't try to accomplish everything in a single trip.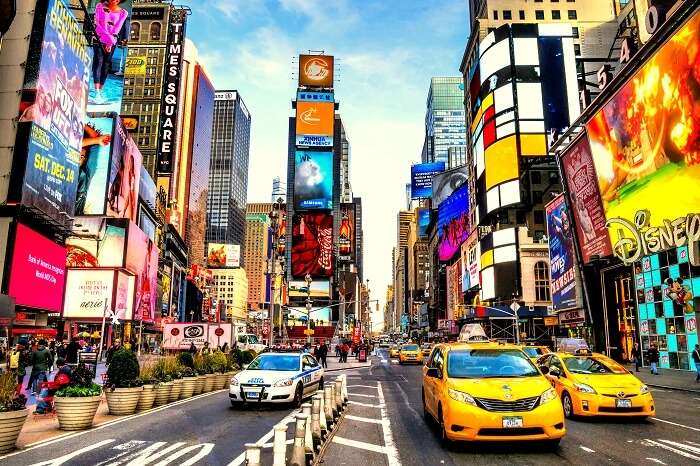 Time Zone
Eastern Standard Time
Ideal Time to Visit
Summer is one of the best times to visit New York since it is a city that is constantly celebrating something. The season for outdoor concerts is well underway. The city's parks are full of free movies and theatre productions, there are always street vendors around, and there are always street fairs. But at train stations, it can get hot, there can be a lot of people waiting, and the temperature can rise in the city's high-rises. If you think this sounds miserable, go between Thanksgiving and New Year's when it's cooler and the department store displays are decorated for the season. The three main outdoor ice rinks in Manhattan are open at this time, Rockefeller Center is decorated with a massive Christmas tree, and the holiday light displays are the most extravagant you've ever seen.
Facts to Consider
New York is a city made up of five boroughs: Manhattan, Brooklyn, Queens, the Bronx, and Staten Island. The majority of the city's tourist destinations are in Manhattan, with a handful also located in Brooklyn, Queens, and the Bronx.
In Manhattan, there is no need to drive. The city has a robust public transportation infrastructure that makes it simple to travel by subway, bus, cab, and foot to almost everywhere. While there are many Uber and Lyft options, parking can be difficult and pricey. In the meantime, the metro is always open.
The city of New York moves quickly. Remember to stand on the right side of the escalator so hasty commuters can walk on the left while you move aside to check your phone.
The New York City subway system is one of the largest public transportation systems in the world. It runs on Staten Island and connects Manhattan, Brooklyn, Queens, and the Bronx. Cost each trip is $2.75. For $33, a seven-day pass that covers both trains and buses is offered.
Buses: A network of buses makes it simple to go to locations that are infrequently served by adjacent train stations as well as to LaGuardia Airport in New York. Bus fares for one person are $2.75. A seven-day transportation pass that covers both trains and buses costs $33. Buses might be useful, but occasionally traffic can make them simple to outwalk.
In good weather, using a ferry is one of the greatest methods to get between the boroughs of New York. Staten Island, the eastern side of Manhattan, the western shore of Brooklyn, and Queens are all connected via ferries. Each ride costs $2.75. On New York ferries, passes for the subway and buses are not accepted. Staten Island Ferry rides are uncharged.
Taxis: Cabs are readily available throughout Manhattan, but can be a bit elusive in some areas of Brooklyn, Queens, and the Bronx. Northern Manhattan and the outskirts of Manhattan are served by green taxis. Look for a cab with its light on, then raise your arm to hail it. All cabs in New York City must accept credit cards and have meters.
Best Hotels
The Plaza
Address: 768 5th Ave., New York, NY 10019
This hotel is for you if money is no object and you've always wanted to stay in a castle. It is located across the street from Central Park's southern boundary and was constructed to mimic a French château. The Plaza is a favorite location for filmmakers. It was used to film "The Way We Were" with Robert Redford and Barbra Streisand and "Home Alone 2" with Macaulay Culkin. The Plaza, which is renowned for its afternoon tea service, had a $450 million makeover in 2008.
The Peninsula New York
Address: 700 5th Ave., New York, NY, 10019
 The Peninsula New York reopened in the summer of 2021 and welcomed visitors back to this storied location on Fifth Avenue, adjacent to upscale shops and well-known attractions like Rockefeller Center and Radio City Music Hall, after being closed for 14 months due to the COVID-19 epidemic. The hotel's spa, which spans three storeys, is one of the biggest in the city, and its top-floor indoor pool provides panoramic views of the city.
CitizenM New York Times Square Hotel
Address: 218 W. 50th St., New York, NY 10019
Located on the northern edge of Times Square in the heart of the Theater District, this hotel feels like an urban art gallery. Rooms are compact yet modern, functional, and clean. Plus, the hotel bar is as affordable as they come in NYC, and there's a rooftop that's perfect for sipping cocktails.
Arlo Hotel
Address: Multiple Locations
There are locations of this hip hotel in SoHo, NoMad, and Midtown. While the NoMad location offers fantastic proximity to shops and rooftop bars, including the hotel's own, the Hudson Street location is suitable for visitors searching for a party in the Meatpacking District. With a martini in hand, you can see the Empire State Building from the rooftop of the Arlo NoMad hotel.
Park Lane Hotel New York
Address: 36 Central Park South, New York, NY, 10019
Steps from Central Park, the recently restored Park Lane Hotel has created a warm atmosphere with artistic elements. The hotel, which is pet-friendly and is located close to every city dog's ideal location for a long walk, features whimsical murals from New York City-based artists that decorate the guest rooms and common areas. The only rooftop lounge in Central Park South, Darling, is the place to go if you want to see expansive views of the park and the city skyline from the 47th level.
Although it isn't a square, Times Square beats at the center of the city that never sleeps. Actually, it encompasses a stretch of West 42nd to West 47th Streets along Broadway and Seventh Avenues and resembles a bow tie more than anything else. The city holds its famous New Year's Eve celebration at this commercial junction. Even on a slow day, hundreds of thousands of people walk through it, so visitors shouldn't be shocked to see spontaneous concerts, yoga sessions, and street performances here.
District of Theaters
One of the biggest live performance centers in the world, Broadway, is located in New York's Theater District and is made up of several Midtown Manhattan theatres. Most of the city's Broadway theatres can be found here, between West 40th and West 54th Streets and between Sixth and Eighth Avenues. Lotteries are used by some to provide discounted tickets, and simply walking around the neighborhood gives you plenty of opportunities to see famous people. After performances, entertainers frequently stop to sign autographs and take pictures with spectators outside the stage doors. Check out the TKTS booth in Times Square for cheap same-day and next-day tickets.
Shopping Spot
Saks Fifth Avenue
 Address: 611 Fifth Ave., New York, NY, 10022
 The Fifth Avenue retail district in New York is recognized for its high-end brands and luxury department stores, including Saks Fifth Avenue, which serves as its anchor. Saks offers a unique shopping experience, especially during the holidays when the building's facade is transformed into one of the world's top holiday light displays.
Macy's Herald Square
Address: 151 W 34th St., New York, NY 10001
 This main Macy's shop, located on Manhattan's Herald Square, is one of the biggest in the entire globe. It has been in use since 1902 and has nine storeys. Additionally, it is well-known for hosting the Macy's Thanksgiving Day Parade each year and for its animated Christmas window displays. Stella, a tranquil haven of Italian cuisine in a district where calm restaurants are hard to come by, is nestled away on its sixth level.
Neighborhoods to Know
The New York Stock Exchange and the famed Charging Bull statue, which has come to represent Wall Street, are both located in the Financial District. Visitors can still take pictures outside with the Fearless Girl, a contentious New York statue that once faced off against the Charging Bull, even though they are no longer permitted inside the stock exchange. This neighborhood is where cruises to the Statue of Liberty depart from.
Manhattan's central district is known as Midtown. Times Square, Broadway, Bryant Park, and the enormous Macy's shop in Herald Square are all located there. St. Patrick's Cathedral, Radio City Music Hall, and the Museum of Modern Art are also located there. Head to Fifth Avenue, where you may discover Saks Fifth Avenue, Bergdorf Goodman, and Bloomingdale's if you want to go shopping.
The Metropolitan Museum of Art, the Jewish Museum, and the Museum of the City of New York are just a few of the prestigious museums that call the Upper East Side of the city home. Many foreign embassies are located there, and Central Park borders it on the west.
Weather
The long, summer days can be lovely or swelteringly humid. The coldest months of the year are January and February, while winters are generally mild.
The average lows and highs in Fahrenheit for each month are listed below.
January: 26°F to 39°F
February: 29°F to 42°F
March: 35°F to 50°F
April: 44°F to 60°F
May: 55°F to 71°F
June: 64°F to 79°F
July: 70°F to 85°F
August: 69°F to 83°F
September: 61°F to 76°F
October: 50°F to 65°F
November: 41°F to 54°F
December: 32°F to 44°F
Apps to Download
OpenTable: Android | iOS restaurant reservations
MyMTA: iOS | Android trip planning, service updates
iOs | Android app TodayTix: Last-minute affordable Broadway show tickets